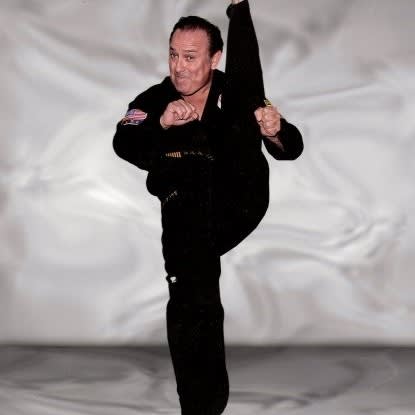 Kwanjanim John Cantu
I hope you are as excited to be here at our school as we are to have you. My name is Kwan Ja Nim John Cantu. I am your Grandmaster Instructor and the founder of Icon Martial Arts Academy (Formerly) Southeast Texas Taekwondo Academy).
I have trained in Karate, Kung Fu, Tai Chi, Aikido, Wu Shu, Judo, Hapkido and Taekwondo, and I also have experience in pressure points. I Have Black belts in Taekwondo, Hapkido, Tang Soo Do and Mu Duk Kwon. My early training began in 1969, when I was around 10 years old. Later I trained with Master Jin Won Kim, Master Sang Lee, Grandmaster Y.C. Chang, and Grandmaster Jun Ki Choi. I am Presently a 7th Dan Black Belt in Taekwondo and Hapkido. Since I have produced a Master Instructor, my title within the school is Grandmaster or (Kwan Ja Nim).
I have worked with the Tomball Police Department, Tomball College, Tomball Gifted and Talented Program, Tomball ISD, Magnolia ISD, Klein ISD, Tomball Senior Citizens Program and much, much more. When students walk through the doors of my school, their dreams are just beginning. My goal is to make their dream a reality.